Back To Health Chiropractic in Portage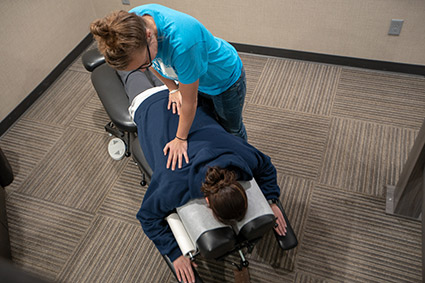 Back To Health Chiropractic was first established in Zeeland back in 2006. Over the years, Dr. Tonya Westerbeke's patients would tell her how they wished there was a Back To Health Chiropractic location where their family or friends lived. It was clear that there was a need for more like-minded practitioners around the western Michigan area. Our Portage location opened in 2017.
We Want to Help You Find a Solution
Too often, people are trying as best they can to cope with pain or ignore it. We want to get the word out that you don't have to keep living with pain. Our incredible bodies were created to self-heal and self-regulate by a power far greater and smarter than ourselves. If there is any form of stress on the nervous system, you can't work at 100%. We remove nerve interference so that you can function at your highest potential.
We Love to Share in Your Successes
Every day, we have the privilege to watch people heal. Once you're feeling better, we hope that you'll work to maintain your health. You can do so by continuing to see us periodically for wellness checkups. Since the stresses of life are ever-present, you must be proactive in keeping the progress you've gained while under care.
Chiropractic can be life-changing for newborn babies up to great-grandparents and for everyone in between. Our head-to-toe approach can address your full body needs. We're proud to have helped thousands of people achieve their health goals over the years we've been in practice!
MEET OUR CHIROPRACTORS »
To continue reaching out to our ever-expanding community with the sole purpose of serving others and helping our communities realize what true health and wellness is.
Dr. Tonya got into the chiropractic profession because her back pain and migraines kept her from having a normal childhood. Unable to participate in many activities, she missed out on a lot of opportunities until she started chiropractic care. She became a chiropractor to make sure that no kids would miss out on their childhood.
One of our favorite cases involve a little girl who was constipated. Like most kids with this issue, she was crying from the pain, unable to sleep and had behavioral problems. After getting adjusted, she pooped in her diaper, right in our reception area. Over time, she was pooping consistently and started eating better because she no longer feared going to the bathroom.
There are three stages in becoming a patient with us. First, we'll perform a full assessment to talk about your needs and how we can help you. Second, we'll create a unique plan that works just for you, tailored to your individual goals. Finally, we'll partner with you to make sure you can live that active, vibrant lifestyle you want.
When we meet you, we'll listen carefully to your concerns and empathize with you. We realize that you may have been to other doctors in the past and felt like you weren't heard. We'll make sure that your goals are at the forefront of everything we do so that you get the results you've been hoping for!
In-Network Insurance Providers
We are in-network providers with nearly all insurance plans, including Medicare. To schedule your first appointment at our chiropractic office, call our friendly team today!

Chiropractic Clinic in Portage MI | (269) 345-2273